PaxPro®: The Patented FR Solution
PaxPro® is a patented system which combines three synergistic parts:
The Protection for Peaceful Sleep® tape edge closing system using two components that demonstrate consistent performance and quality when tested using ASTM Test Method D7016 + an FR fabric which demonstrates consistent heat transfer performance when tested using ASTM Test Method D7140.
Using the PaxPro® system means the mattress will self-extinguish within a few minutes when exposed to an open flame. This means there is virtually no chance that a burning mattress can contribute to a catastrophic failure that would cause everything in the room to burn.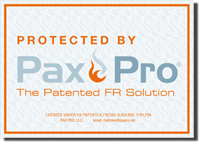 Look for the PaxPro® label to be sure the mattress will consistently meet the U.S. Consumer Product Safety Commission requirement for 16 CFR 1633 flame resistance.

To learn more about what 16 CFR 1633 can mean to you, contact us at mattress@paxpro.net.